Windows are one of the most vulnerable parts of your house. If they are weak and damaged you could have anything from heat and insects to intruders entering through them. When renovating your house they should be your priority. If you make any oversight your lifestyle, safety, and your heating bills could be in danger. Here are some tips on how to prevent anything unwanted from going in.
Install Bi-Fold Windows
Bi-fold windows are one of the safest types on the market, and not to mention that they make your home look modern and luxurious. You could choose to install them in any size, up to sixteen panels. They have a specialized locking system, which allows you to choose if you want them opening inward or outward. You can visit Custom Screens to find out more about how they function. You can choose any type of wood or color for the sill that would fit your interior or exterior decoration. They have been found by experts to be one of the most secure types because they offer multiple locking systems and triple or double-glazed glass. The fear of burglaries will be a thing of the past, and the temperature of your room will always be to your liking.
Repair Anything Broken
As was previously said, window maintenance should always be your house renovation priority. Whether the glass or the frame is broken, it should be replaced immediately upon notice. Insects often nest in wet or rotten wood, so you could be dealing with a swarm in your house that you just can't find the way to get rid of. Bug sprays will help you only for a short amount of time, as they will just keep coming in and even if you get rid of the nest, the other one will surely settle down in it. Also, you will be unable to keep the warmth from coming out and your bills will skyrocket. If you have issues like these, be sure to examine all the windows in your home.
Replace the Glass
Glass replacement falls into the category of renovation, but it doesn't have to be broken to cause some issues on its own. The main problem that anyone with an older house faces is that their windows only have single glazed, or in some cases double-glazed, glass. It is very easy to break and however much you warm up your room, the heat will always get out. On the other hand, when it is a warm summer day, the sun will enter the room and heat it unbearably. Nowadays, triple glazed glass has become standard, so invest in it as soon as possible. It can be found at a low price, so don't worry about breaking into your budget too much.
Add Insect Screens
Insect screens are the cheapest, but one of the most effective solutions to a bug break-in. They are usually installed on the inside. It covers all of your windows with mesh, which is practically unnoticeable, so it won't mess up the look of your room. There are multiple types of screens, like mesh panels, roller, chained, hinged, framed, and more. You can also find door-sized ones, so you can take that extra step if you are not sure that protecting only the windows will help. They are usually custom-sized, so you won't have trouble fitting them on your more unusual or unique styled ones.
Cover Them from the Inside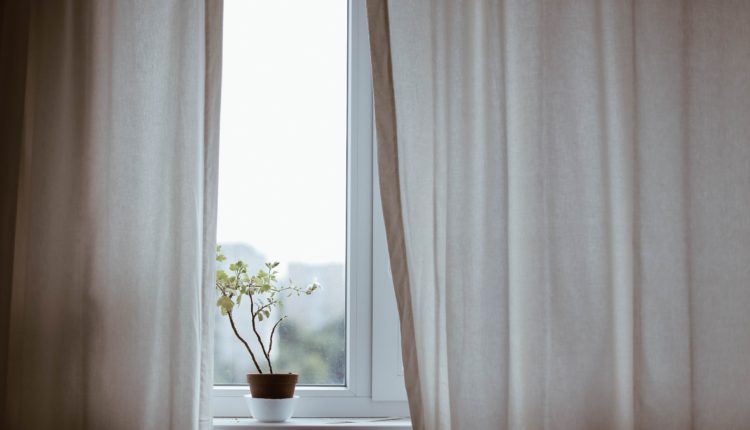 There are multiple creative and at the same time practical ways to cover your windows from the inside and keep anything unwanted out. You could choose between window quilts, roller shades, blinds, curtains, shades, and many more options. Whether you choose by style or practicality, it will bring up the atmosphere of your room. It will not only keep the sunlight and warmth from entering, but it will also prevent any unwanted gazes. A common misconception is that it only serves to beautify the space. A lesser-known fact is that 30% of heat energy is lost when the windows are left bare. It has multiple benefits, like maintaining the temperature, privacy, and decor, and it is way less costly than changing all the windows in your house.
Install Exterior Shutters or Shades
Exterior coverage is as important as the interior one. It will also keep your privacy and sunlight control, and it will also raise the curb appeal of your home. You could put up wooden, plastic, or metal shutters. The last type is the most long-lasting and is less prone to damages. The only fault is that they could get rusty and corroded. If you don't want to spoil the interior design of your room with curtains or roller shades, you should consider putting up the exterior shades. There are also a lot of options for sizes, colors, and style so it could contribute to your perfect home appearance. Give your home some extra safety and consider investing in this option.
Build an Awning
Awnings are practical, they will keep the sun from going into the room, and let's be honest, they are cute. If you don't know how to do it yourself, you could always hire someone to help you put your perfect design into existence. Besides blocking the sun's rays, they will protect your windows from weather damage. If you have wooden panels, and they get often wet, the wood could rot, which will make it easier to be broken into and multiple insects could get into your home. Also, awnings could protect the glass breakage from hail or heavy snowfall. Take this step, and your windows will stay in top-notch condition longer. Additionally, it will contribute to the curb appeal of your home and add some extra safety.
Final Word
Don't abstain from setting aside some money for window renovation. Everything that you don't want inside your house is sure to stay out if you spend some time ensuring the quality and longevity of the eyes of your house. You can never be sure that somebody won't try to invade your space, but why not make it as hard as possible for them to do so. Fix and upgrade your windows and you will see how your lifestyle will improve with them.
---
beycome™️ can get you a commission refund on your home purchase.
beycome™️ is a flat-fee MLS listing service that is disrupting residential real estate, by helping people to buy or sell a home without needing a real estate agent. The technology behind the Beycome platform brings buyers and sellers together, providing the tools and resources to empower people to be their best DIY agent. The platform offers buyers up to 3% cash back on their purchase and allows sellers to list their properties for a flat-fee, saving them up to 6% in commissions.