Things to do in Fort Myers
When you want to purchase a home in Fort Myers it is in your best interest to research the area surrounding any property. Look into properties closer to the more popular Fort Myers destinations people enjoy visiting. Your home benefits from the boost in real-estate value while you can enjoy the hottest spots in the city.
Fort Myers Entertainment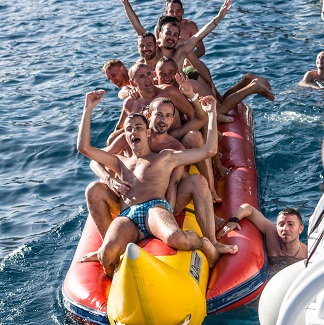 Sun Splash Water Park: Take a trip to one Florida's largest water parks. Featuring a lazy-river, as well as high-speed flumes, this water park offers rides for everyone. Families, couples, and individuals can enjoy splashing around during Fort Myers' hot season. 400 Santa Barbara Blvd. Cape Coral, Fl 33991.
Zoomers Amusement Park: For some family and friend fun, visit Zoomers, an indoor and outdoor amusement park that features a go-kart track, bumper boats, an arcade, and more. This attraction also has summer camps', which provides a way for adolescents' to be looked after. 17455 Summerlin Rd. , Fort Myers, Fl 33908

Salty Sam's Pirate Cruise: Join in on a 90-minute cruise, where you can explore all areas of a large "pirate" ship while listening to tales told by the Fort Myers Beach crew. With a full bar, an array of snack and souvenirs, this cruise keeps you satisfied and entertained.
Fort Myers Restaurants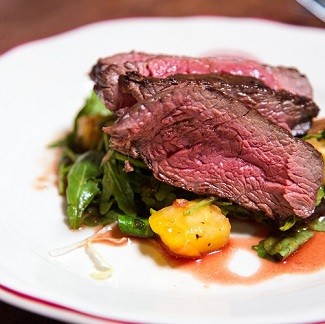 The Go Go Diner: From savory corned beef hash to rich red velvet pancakes, the Go Go Diner serves classics and innovative dishes every day. This diner features a chef from the Culinary Institute of America who has a knack for creating one of a kind entrees. 957 Pondella Rd North Fort Myers, Fl 33903
Chef Brooke's Natural Café: For vegans and vegetarians, try Chef Brooke's plant-based creations. Incorporating local ingredients, this cafe offers fresh dishes, such as, the Kimchi Veggie Wrap (with vegetables and raw sunflower hummus wrapped in a collard leaf), and raw nachos (vegetables with walnut meat, cashew cheese sauce, and pico over dehydrated nachos). For meat-eaters, there's other options available as well. 1850 Boy Scout Dr #A106 Fort Myers, Fl 33907.

Blu Sushi: Since 2002, Blu Sushi has amazed both South Florida locals and tourists, not just because of the food, but because of the underwater interior design. Still though, the food is worth noting—this restaurant offers classic rolls (like yellowtail and spider), as well as creative specialty rolls (such as the Skinny Love: with tuna, salmon, tilapia, smelt roe, asparagus and scallions wrapped in seaweed—no rice). 13451 McGregor Blvd, Fort Myers, Fl 33919.
Fort Myers Bars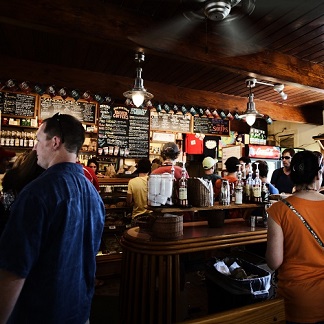 City Tavern: Locally owned and operated, City Tavern is a hot-spot for happy hour specials and nightlife entertainment. They've received top awards for best "Happy Hour," "Friendliest Staff," and "Best Girls Night Out". Everyday they offer domestic beer and 16-ounce drafts for only $3.50, and wells and wines for $4.50. 2206 Bay St, Fort Myers, FL 33901.
The Firestone Skybar & Martini Bar: This four-story establishment has an extravagant ambiance, including a waterfront rooftop. Serving drinks and a full dinner menu, while providing live music and celebrity guest DJ's, the Firestone Skybar & Martini Bar has it all. Try the Downtown Diva Martini, which consists of: Ketel One Botanicals cucumber mint vodka, St. Germain, fresh raspberries, lemon juice, simple syrup and club soda.

Space39 Art Bar & Martini Lounge: Featuring upbeat Motown, Funk, Soul, Blues, and Reggae Bands, Space Art Bar & Martini Lounge showcases live performances every week. Additionally, they cater to private parties, birthday parties, and corporate events; they even offer a customized food and drink menu for any special occasion. Locals love the Pumpkin Pie Martini, a rich blend of hand-crafted heavy creams, pumpkin spices and various liquors that is reminiscent of a slice your Grandma's homemade pumpkin pie.
Fort Myers Clubs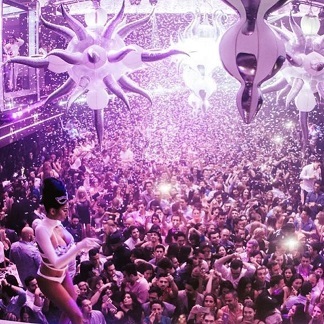 Dixie Roadhouse: A country themed club that specializes in presenting a fine southern vibe complete with line dancing! This popular destination offers the largest hardwood dance floor around with plenty of room for dancing and guest bands. Hip-hop and dance mixes are thrown in as well to keep the party varied and fresh every night. Free line dance lessons offered at the beginning of every night. 1023 SE 47th Terrace, Cape Coral, FL 33904.
The Buddha Nightclub: What was once a Chinese restaurant is now one of the most well-known nightlife locations in the area. Drinks are cheap, music is loud, and the pool of local talent often graces the stage for their chance to shine. It's a club for everyone with casual wear being the standard for people with party on the mind. 12701 McGregor Blvd, Fort Myers, FL 33919.

Celsius Night Club: A classic nightclub for all your Fort Meyer party and dancing needs. The music is thumping while the drinks keep coming with the dedicated and skilled staff. 2213 Main St, Fort Myers, FL 33901.
Fort Myers Lounges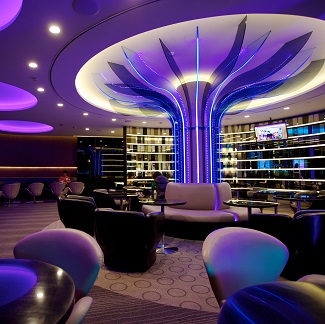 Miscue Lounge: Good prices and a full bar make this place a great location to relax. The pool hall location is a great meetup location to play a few rounds and buy some drinks. 2011 Carrell Rd, Fort Myers, FL 33901.

Kava Culture Kava Bar: Take a breather at this patio location dedicated to helping you take a load off. Play a board game, drink some kava, and enjoy the live music as you take in the tropical climate. 2400 First St #104A, Fort Myers, FL 33901.