No matter how often you clean the window-panes, they will ultimately accumulate dirt and debris. So, you need to clean them regularly to keep them sparkling clean.
Despite spending time spraying and wiping the glass, you may leave behind streaks on window-panes that will ruin your efforts. This is the reason why many people prefer to hire professional services for cleaning windows, especially in large buildings such as castles.
Professional workers use the right cleaning solutions and tools to get rid of dirt from window-panes without any streaks.
It may seem difficult to clean glass on a regular basis. But the results are worth it. With the help of the following expert tips, you can effectively clean window-panes:
1. Cleaning Solution
You can either purchase a window cleaning solution from a store or prepare one on your own.
Vinegar is the perfect cleaning agent for glass. Mix ¼ cup of white vinegar or apple cider vinegar in two cups water and add half a teaspoon dishwashing detergent. Transfer this mixture to a spray bottle.
Before you spray the solution on glass, it's best to wipe it clean with a cloth or a paper towel. Place a bath towel on the windowsill to protect it from dripping liquid.
Now spray the vinegar solution on window-panes. Wipe the surface with a microfiber cloth and dry the window quickly if you want to prevent streaking. For large windows, it's best to use a squeegee for efficient cleaning.
If the glass is cloudy and you haven't cleaned it in awhile, you should use concentrated vinegar. Just fill a spray bottle with a cup of warm vinegar and spray it over the windows. Leave the solution for a minute or two and then clean it with a paper towel.
2. Clean Windows on a Cloudy Day
Refrain from cleaning windows on a sunny day. When you apply the cleaning solution on the surface, it'll evaporate quickly due to the scorching heat, leaving behind streaks.
You should rather choose a dry and cloudy day for your cleaning spree. This will help you get the perfect cleaning with minimal efforts.
3. Clean the Window Frame First
Before you start cleaning window-panes, always remove dust from windowsills and frame. During the cleaning, the liquid will drip on the frame and create a muddy mess. It may ruin your cleaning efforts.
So, vacuum the frame first and then begin cleaning glass surface.
Despite thoroughly cleaning glass, some residue may accumulate in the corners of the window-panes. Since you can't clean these areas with a cloth or a squeegee, you should use cotton swabs to get rid of these deposits.
4. Use Distilled Water
When diluting vinegar cleaning mixture, always use distilled water. Many people use tap water for this purpose, which is why they complain about streaks on the glass surface. Tap water has impurities, which is why it leaves stubborn streaks despite using quality tools.
With distilled water, you can clean window-panes more effectively.
5. Get a Squeegee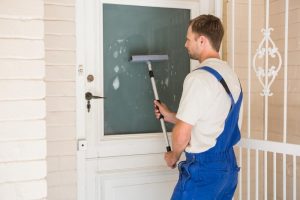 Don't use an old t-shirt or a towel to wipe the glass, or else you won't be able to get sparkling clean windows. You can use a microfiber cloth or a squeegee to clean window-panes.
Even newspaper sheets can be used to clean window-panes. Since glass doesn't absorb ink from paper, you need not worry about stains.
6. Move from Top to Bottom
When you're cleaning window-panes, you may want to clean the bottom of the glass surface first, but you'll only end up leaving streaks on the glass. So, it's best to start from the top and move to the bottom.
The liquid will drip during the cleaning process. If you've already cleaned the bottom of the glass, you'll need to clean it again to get rid of drips. But when you start from the top, the liquid will drip on the areas that you haven't washed yet.
Not only will this practice save you time, you can also get perfectly clean window-panes.
7. Use Plenty of Cleaning Solution
Some people use a little amount of cleaning solution to clean windows. As a result, the solution fails to dissolve the dirt and debris, leaving behind streaks.
So, generously use the cleaning solution on the windows. This will effectively get rid of stains and debris and clean even the dirtiest of window-panes.
8. Work on Smaller Sections
If you're cleaning a large window, don't spray the cleaning solution over the entire glass surface at once. The liquid will dry even before you get the chance to clean it.
Spray the liquid on a small area and clean it quickly with a squeegee. Similarly, if you're cleaning multiple windows in your house, clean them one by one. This way, you can clean window-panes without leaving any streaks.
9. Use a Newspaper for Drying the Window-panes
Some people use newspaper to dry window-panes, whereas others don't. A wet newspaper doesn't hold up well, which is why you may find it difficult to wipe the glass surface with a newspaper. But it can help you get perfectly clean windows.
However, you can also use a microfiber cloth instead of a newspaper to clean a window. A paper towel can also work as it doesn't leave any lint on the surface.
10. Protect Woodwork with a Cloth
When you clean window-panes, the liquid drips from the cleaning solution may affect the woodwork. So, it's recommended to cover windowsills with a cloth. It'll absorb drips and protect the woodwork from any damage.
Conclusion
Dirty windows ruin the appeal of your house's exterior. You can use a vinegar solution to get rid of stains and wipe the window-panes clean with a squeegee or a microfiber cloth. It's best to dilute the vinegar with distilled water. To make sure you thoroughly clean the windows, try dusting the window sills prior to cleaning them with the vinegar-water-mixture..
Cleaning window-panes on a regular basis is quite a task. You can hire professional services for the cleaning purpose, but it may become quite expensive. With the help of the aforementioned DIY tips, you can get sparkling clean window-panes. And don't forget to clean your windows before you take photographs of your house if you decide to list on the MLS!