Should I furnish my house or sell it empty?
This question is frequently asked by property owners who want to sell off their house. Some real estate experts suggest it's best to sell an unfurnished house, whereas a majority of them agree that it's best to lightly furnish it to attract buyers.
However, if you're in a rush to move out, don't furnish the property. It's because if you're unable to nicely furnish the property, you'll only end up reducing its value.
Benefits of Selling a Furnished House
So, let's take a look at the top reasons why you should furnish your house before the visits of potential buyers:
It Makes It Easier to Imagine Living in the House
You should focus on leaving a positive first impression on potential buyers. Furnishing the house increases the charm of the property and gives it the feel of a home.
When potential buyers visit your property, they should be able to visualize where they should keep their furniture so that they can make a decision whether or not they should buy the property.
When the house is completely empty, it's an unnatural environment that doesn't attract customers. But with a little furniture, such as a bed, dining table, and a sofa set, buyers can relate to the environment. This will make it more convenient for them to make a buying decision.
It Makes the Room Look Spacious
An empty room looks smaller than its actual area. The customers can't distinguish between a 14×12 and a 12×10 feet room. Even if they measure the space, it'll be difficult for them to determine how they should make the most of the available space.
But when you add minimal furniture to the room, the room looks spacious and is more attractive for buyers. It helps the buyers how they can use the space.
This approach adds to the value of the property and you can get a good price for your house.
It Can Distract Buyers from Minor Problems
If the drainage pipes in your house are leaking or there are visible cracks in the walls, you can't hide them from potential buyers. But you can distract buyers from minor problems in your house.
When the house is furnished, the customers will be more concerned about how they can use the space to set their furniture. They might overlook the fact that plastering on the walls isn't good.
But if there's nothing else to look at, the potential buyers will keenly scrutinize the property and carefully check the paint, flooring quality, plug sockets, and the condition of doors. Even if they find a minor problem, they may not be interested in buying the property.
It Looks Better Than an Empty House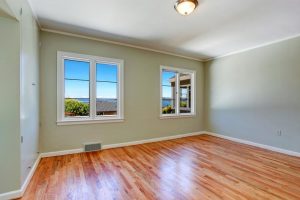 If done nicely, a furnished house looks far better than an empty house. It can attract potential buyers and convince them to prefer your property over other houses for sale in the locality. The more aesthetically appealing the interior of the house, the faster will be the sales process.
However, you should be careful when furnishing your house. Refrain from overdoing it, or else it'll hamper your efforts.
Benefits of Selling an Unfurnished House
An empty house presents a blank canvas and buyers can renovate the space to their liking. But when you add furniture to rooms, it limits the room for creativity.
It takes a lot of time and effort to furnish a house for sale. But selling an unfurnished house makes the selling process faster and convenient. Whenever any potential buyer wants to visit the house, you can quickly schedule the appointment as and when needed.
When you opt to sell a furnished residential property, you can either use your own furniture or rent furniture set to attract buyers. It'll be inconvenient to leave behind a majority of your furniture and then move it to your new residence once you've sold the house.
But renting furniture involves higher costs. Moreover, if you damage an item, you'll have to pay a hefty sum to replace it.
So, if you want to increase the chances of selling your house shortly at a good rate, you should furnish it before listing the property for sale.
So, here are a few quick tips to help you stage the property for sale:
Get Rid of Clutter
Nothing is more repulsive for potential buyers than a cluttered space. If you don't arrange the furniture, the rooms will appear smaller in size and make it difficult to move around the house.
The rule of thumb for styling a house for sale is to remove half of the furniture from the rooms. You can move the furniture to your new residence. Don't leave behind old magazines, children's toys, and outdated furniture. You can get in touch with a professional property stager to make your house more appealing.
Add Lighting
The brighter the space, the more spacious it'll appear. Bring in more natural light to enhance the décor. If the windows are covered with blinds, you should remove them before potential buyers visit the property. Add bright ceiling lights and bedroom lamps to the rooms where natural light doesn't enter.
Bring in Nature
You can keep fresh flowers in bedrooms and the living room to freshen the environment. But a more convenient option than buying fresh flowers is to keep natural plants in every room. Water the plants regularly and trim them often to create a welcoming environment.
Conclusion
Selling a furnished house can help you attract customers. A well-furnished apartment looks spacious, distracts buyers from minor problems, and makes it easier for them to decide whether or not they should buy the house.
However, it's quite a task to rent furniture and redesign the interior of your house to spark the interest of potential buyers. You can avoid this hassle by selling an empty house. This way, you can present a blank canvas to the buyers so that they can design the interior as per their own choice.
All in all, there are pros and cons of selling a furnished house and an empty one. You should go for the option that is more convenient for you and can help you get a good price for your property.