Bedrooms are the one space in a house where homeowners have the creative freedom to decorate without the worry of what family members or guests think about color and style choices. 
Designing and decorating your bedroom allows you to create a personalized and relaxing space for you to escape to at the end of a hard day. 
There are several simple ways you can decorate and kit out your bedroom to suit your personality and improve its comfort, functionality, and vibe. These include changing or customizing the bedding, putting up artwork, placing plants, choosing a color scheme and style, and installing new lighting. 
To help anyone thinking about freshening up their bedroom, here are some creative and useful tips to make a bedroom more comfortable, unique, and relaxing. 
Get a Better Mattress
The main function of a bedroom is to act as a quiet and comfortable place to rest and sleep so one bedroom improvement people often make is upgrading to a softer mattress. Before rushing to buy a new mattress it is worth checking a mattress dimensions guide like the one at www.puffy.com/blogs/best-sleep/mattress-size-and-dimensions-guide to see which size mattresses fit your bed frame and what materials are suitable for you. The type and size of mattress people choose often depends on their personal preferences and if they live alone or have a family. 
A good mattress will often result in a good night's sleep and provide a nice and quiet spot to read or take a nap during the day. Of course, the main benefits of a comfy mattress are the effects it will have on your sleep as softer mattresses displace pressure on muscles and joints, and promote better spinal alignment.  
Decide on Colors and Style
The first step in sprucing up your bedroom is making a list of all your favorite colors and styles, and it may also be helpful to make a mood board and collect samples. Unlike when designing and decorating a kitchen, bathroom, or living room you don't have to be as conservative with your choices, so you don't have to worry if you want bright and bold colors and patterns. 
It is common practice in interior design to choose colors, patterns, and styles that complement each other and then apply them throughout on the walls, soft furnishings, carpets, rugs, curtains, and fittings. 
Hang Art and Photos 
Putting up photos of your family members and friends around your bedroom can create the feeling of a safe place and remind you of fond memories. 
Another way to make your bedroom walls more interesting is to hang up some original or printed art. Artwork can cover large boring or ugly walls without too much work to install them as well as making the bedroom feel cozier. If you are on a budget, canvas art prints are more affordable than original artwork. 
Make Custom Bedding
Beds are the one place people retreat to at the end of every day to get some well-earned rest, so many people want them to be comfortable and decorated in ways that match their interests, personalities, or taste in style. For example, sports fans can get duvet covers with the image of star players or the team logos on them. Alternatively, you can get the photos of your friends, relatives, or pets printed onto custom bedding items. 
Put Some House Plants Around Your Bedroom
Placing some easy to care for houseplants around your bedroom can improve the environment in your room by reducing carbon dioxide levels whilst increasing oxygen levels. 
House plants can also be integrated into a wider color and style plan as flowers, leaves, and pots can provide a range of colors, shapes, and textures. Some popular house plants are devil's ivy, mass cane, cacti, peace lily, and "swiss cheese plants". 
Install Mood Lighting and Dimmers 
Another bedroom design tip to make your bedroom feel cozier, more comfortable, and easier to sleep in is to install mood lighting, meaning lights should not be too bright but still cover at least the main areas of a bedroom. To create layered lighting that sets a calm mood it is best to install a series of smaller lights and lamps using warm yellow bulbs, these can then be controlled by dimmer switches by the door or next to the bed. 
Use Aromas to Freshen The Air
As well as making your bedroom look nicer, you may also want to make it smell nicer. You can do this by creating nice aromas by either burning scented candles, spraying essential oils, or lighting incense sticks. The range of scents used in a range of air freshening products allows you to easily customize the fragrance of your bedroom. 
Add Extra Furniture If You Have Space
When considering the pieces of furniture to add or remove you need to think about the visual weight of each piece as well as ease of movement around your bedroom. For example, bed frames with large headboards will make a bedroom look smaller whilst minimalist furniture will have less of an impact on the look of the room. 
For small bedrooms, consider getting a streamlined bed frame and headboard along with other minimalist furniture. Whereas in rooms with higher ceilings that have more wall space to cover, taller headboards or large art pieces above the bed are more suitable.
Other furniture that can be added to a bedroom to allow for greater storage and functionality are a bedroom dresser, bedside table, chair, couch, desk, nightstand, table, and wardrobe.
However, trying to squeeze as much furniture as possible into a bedroom will leave it feeling cramped and claustrophobic. So when deciding what furniture to get and where to place it you should consider how much space it will take up and how it would look overall.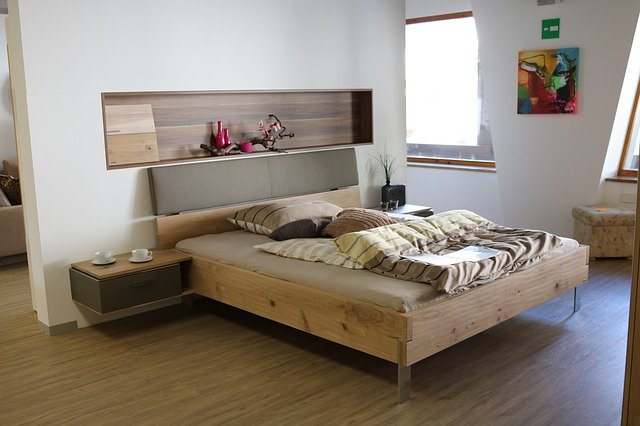 Add Small Details
As well as the larger improvements you can make to your bedroom there are also lots of smaller additions that can make your room more interesting. For example, rustic lamps, vases, and antiques can all be placed around your bedroom atop cabinets, dressers, or shelves. 
Your bedroom can be considered a blank canvas on which to express your personality and style preferences. Revamping your bedroom is a creative process that is all about making a space tailored to what you like. Follow the tips above to help you re-design and decorate your bedroom into something that really suits you.