Eventually, every house owner will need to have their roof replaced or repaired. Notwithstanding, there are steps and preparations you can take to help ensure everything goes smooth and hassle-free. This way, when the time comes, you would know the steps to take that will ensure they correctly do the work.
The replacement of your residential roof will disrupt your daily routine for a few days because there will be noise and installers going about your home. During this period, you will need to deal with this period properly or it may lead to an uncomfortable and stressful period for you and the family.
What to Know and Understand Before Roof Replacement
Professionals at Equity Roofing explain that the method and process of replacing your roof are the same; whether you have a metal, slate, or shingle roof. And before the replacement activity begins, below are some things you should understand;
Research Your Home Style 
To ensure you're getting what you want, start planning your roof replacement before you even choose or employ the service of any contractor. Take the time to research your home style, the roofing style associated with it, this will help you make informed decisions when you eventually consult with a contractor.
Have a Project Journal 
Roof replacement projects come with various kinds of documentation, from contracts and warranty paperwork to sketches and clippings. Keep all these documents organized in a durable document folder, envelope, or somewhere safe. You always want to find a document related to your roof replacement whenever you need it.
Choose Your Contractor Carefully
Hiring a roofing contractor isn't something that should be taken with levity. You should go for a contractor who knows not just roof repair and maintenance, but also installation. On average, a roof lasts for 20 to 30 years, so you'll need someone who can commit to keeping your roof in the best condition for the long run.
Prepare the House 
You should start preparing your house for the installation project at least a week ahead of the installation date. Clear the driveway and plan for your kids and pets if there would be no other adult around. Do not also forget there will be a lot of dust and debris, you'll need to break out the dust covers to protect valuables.
Have a Ready Emergency Budget 
Sometimes, there are hidden issues with the roof that only get revealed once the old roofing has been removed. These can be so serious that they need to be repaired before installation can proceed. 
You will need emergency funds for these repairs to avoid unnecessary delays, as they won't be included in the quoted price. You can keep 10% to 20% extra to cover such expenses.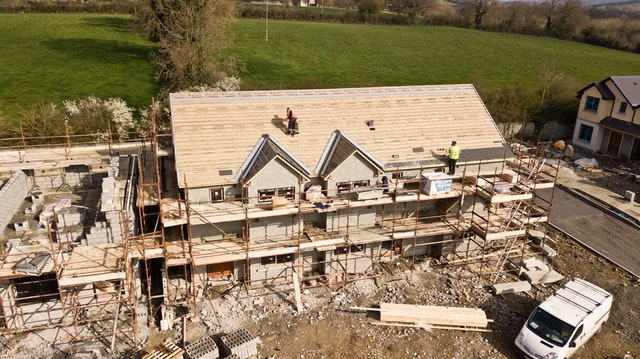 Preparing the House to Make Roof Replacement Easy
The first thing to know about roof replacement is that you have to prepare both the outside and the inside of your home. Cover all of your furniture, bedding, and clothing to prevent any falling debris from damaging your household items. There will be a lot of scattering and nailing of materials all over your roof.

Do you have an attic? If the answer to this is yes, then cover everything using an attic tarp. If possible, remove any valuable items so you will not have to keep worrying about any potential damage. Being prepared is always a good idea.

Once you have adequately prepared the inside of your home, move anything that's outside and near your home that might get damaged by any falling debris. Things like your patio furniture, potted plants, and grills. 

Also note that before any shingles get removed, solar panels, antennas, satellite dishes need to be taken down. Inform your contractor where they can park and store the roofing materials, give them enough room to work, and move things back and forth from your home by parking your vehicles further down the street. 
The best option for pets will be to put them in the safest and most peaceful room in your home so they will not become stressed or agitated by the noise from the roof.
With proper planning, you can do your roof replacement such that you need not move out during your roof replacement. Disruption in your routine should be minimal as roofing contractors work during office hours. When you work from home and find the noise disruptive, you might spend time with a friend or family member.