Revamping the look of your house does not need to involve full-scale renovations, and this includes giving your bathrooms a new look. This isn't to say you can't redo your bathroom from top to bottom if you want to – however, there are numerous ways to make your space look fresh and updated within a few hours or days. 
If you're looking for some tips on how to do this, you're in the right place. Here are eight simple tips to get your bathroom looking fresh and new. 
1. Add a Few Plants
Plants don't just add color to your kitchen and your workspace – they can help brighten up even the darkest of bathrooms. More than just adding a pop of color to the space, they're also a mood lifter and – depending on which plants you choose – can make the air smell fresher, which is always a positive!
Ideally, you should opt for plants that enjoy warm, humid spaces, especially if you're someone who loves long, warm showers daily. Additionally, if you don't have the greenest thumb around, you can check out some low-maintenance plants so you don't have to worry about killing them if you forget to water them daily. Some good options that combine both requirements (low maintenance and good in humid spaces) include spider plants and aspidistras.
2. Install Bathroom Accessories
One of the biggest hurdles to a fresh bathroom space is clutter. For example, you may leave the towel on the bathroom floor after you're done drying yourself after a shower, or leave your hand towel in a crumpled heap near the sink after washing your hands. 
It's easy to avoid messes of this kind, and it will automatically make your bathroom look neater and cleaner. One way to avoid these issues is to be conscious about where you place your towels and napkins. 
However, there's always a chance that you – or someone else in your house – will forget to clean up after yourself. To avoid this from happening, it's important to invest in bathroom accessories like hand dryers, paper towel dispensers, grab bars, and shelves among many other options, and thanks to the variety found at Fast Accessories, tips like this will go a long way in helping you create more and space and make the bathroom look much more organized and classy as well. If you have space where you can place or hang your clothes and towels, there's less chance they'll clutter up the floor. 
3. Freshen Up the Smell with Candles
A great way to improve the "feel" of your bathroom without altering the actual design is to change the scent of the space – and the easiest way to do this is with candles. 
Candles help in several ways. For one, they help mask unpleasant smells, which are often an unfortunate reality in bathrooms. 
However, they have other benefits as well. There is a reason candles are so common in restaurant bathrooms – the right candle helps create a sense of luxury and a complete sensory experience. You can choose scents depending on your preferences and vary them based on how and when you'll use them. 
For example, you may choose to use a lighter scent during the day but switch to a richer, luxurious option when you're indulging in a long bath. You can even choose to use an expensive candle as a treat, burning it only when unwinding in the bath after a bad day at work. 
4. Play with the Wallpaper
Your bathroom wallpaper doesn't have to be a permanent option that you'll get bored of in no time. Instead, consider experimenting with removable wallpapers. 
While any type of wallpaper application is a bit of a time-consuming job, removable options are undoubtedly easier to work with. Additionally, they are easier to replace, so you won't have to wait until you can call in a professional and take a few days off if you decide you want to change things up in the future. 
5. Replace Your Shower Curtain
Here's an easy trick you can handle in a single afternoon – replace your dingy old shower curtain with a bright new one. 
Not only is this tip extremely affordable, but you also won't even need to leave the house to handle it. You can easily find and order a shower curtain of your choice online, and once it gets to your home, removing your old one and installing the new one can be done within an hour. As a bonus, it can completely transform the space, especially if you're open to spending just a bit more on a luxury or custom option. 
6. Add Some Art
Good art isn't just meant to be hung in your corridor walls and your living room – your bathroom can also benefit from a pop of color!
Art on the walls helps make your bathroom feel homier. This may sound like an odd word to describe a bathroom, but given how much time you spend in there in the day getting ready, there's something to be said about making it feel cheery and like a part of your living space. 
When choosing art for your bathroom, opt for less expensive prints – this way, if they get damaged by the humidity, you won't have to worry about the price. 
7. Update the Lighting 
One of the biggest reasons bathrooms can seem dull and uninspired is because of the lighting. If your bathroom lighting is dull and dingy or harsh and abrasive, spending any time inside will make you feel as low as the lights are. Additionally, bad lighting can make you feel worse when you look in the mirror while getting ready. 
Instead, update your lighting for modern LED lights. It will make your bathroom look brighter, and you'll spend less time poring over your reflection, thanks to the softer glow offered by these lights. 
8. Replace the Rug
Pops of color can help any space come alive – you just need to know how to bring them into a room. 
As mentioned above, two good ways to add color to your bathroom are by updating your shower curtain and adding art to the walls. However, these are not the only options available to you. 
You should also consider updating your bathroom rug. While your choice should ideally be water-resistant or waterproof and have a non-stick backing, that doesn't mean it needs to be dull and monochromatic. You'll easily be able to find colorful options online, and they're an inexpensive, easy way to change the way your bathroom looks.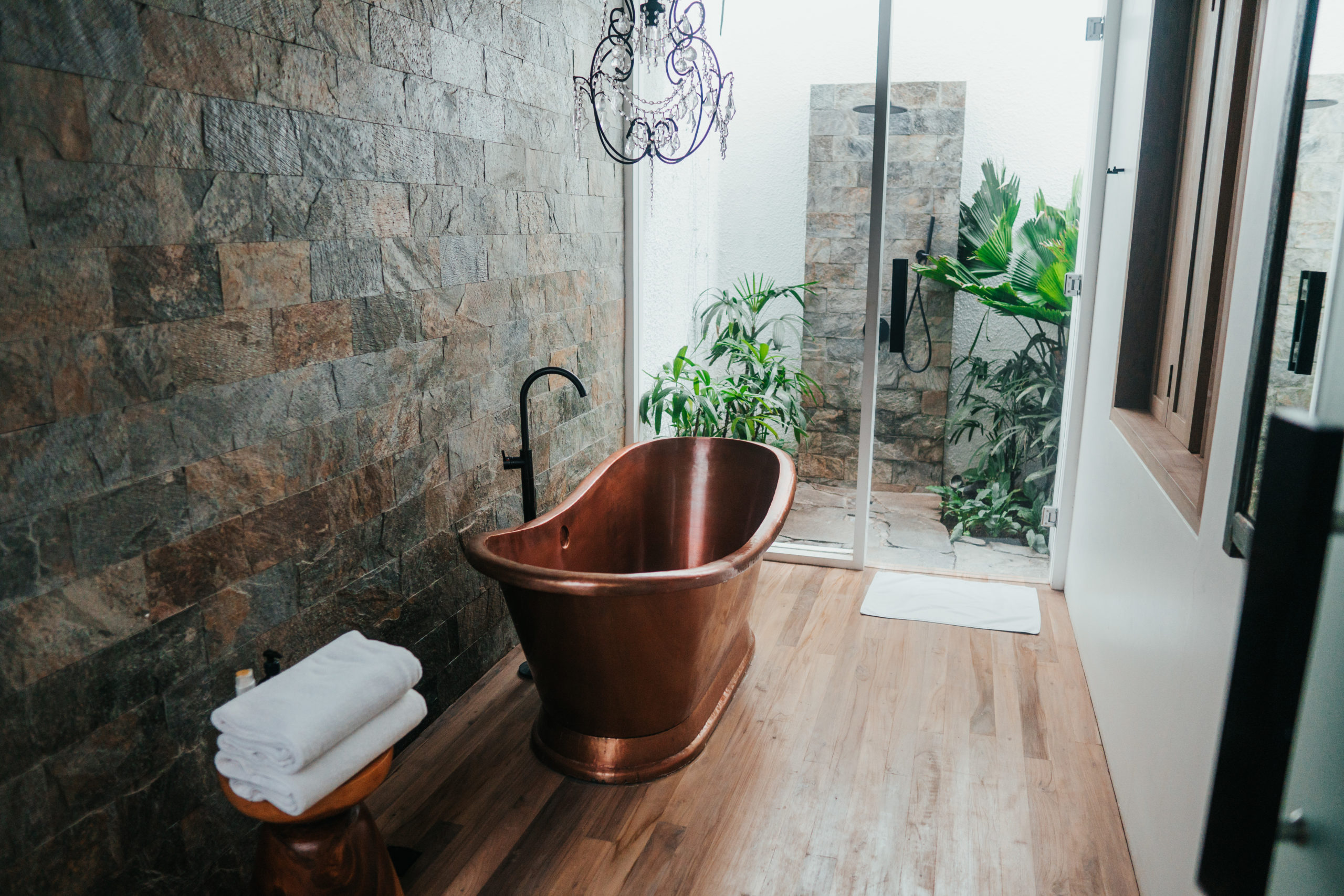 Bathrooms updates don't need to be time-consuming or expensive. Once you have a better idea of what you want your new bathroom design to express, you'll find that creating that look only requires getting a little creative with the resources available.