Selling your home is not as easy a job as it sounds – it takes effort and preparation to seal the best deal. After all, you would not want to just sell it; selling it fast at the best selling price is the goal, right?
You invested a huge sum of money in the property and you surely deserve to at least retrieve it, if not earn a profit. We know that you will prefer the latter option though – who does not love profits?
To sell your house for more, you need to make some wise decisions and plan everything beforehand. It is not all about putting your home up for sale at the market – there are some profound secrets to get top dollar!
We are revealing top ten secrets for attracting potential buyers and selling your home for the top price.
Set a realistic price
Nobody will buy your house if you overprice it. Instead of being greedy for huge profits, you should set a realistic price for your home. An overpriced house will only scare away the potential buyers and leave you waiting forever!
Therefore, it is important to research the prices of similar houses for comparison and find out what your house is worth based on its condition. Cutting down the worth price by 10 to 15% will bring in a number of potential buyers with multiple bids. You will be surprised how they bid up the price over what your house is worth! You might find this strategy a bit risky but believe us when we say that it is perhaps the best secret to sell your house.
Organize the storage areas in the house
No buyer ever said no to more storage! By removing half of your belongings from the storage areas, such as closets, cabinets, pantries, and drawers, you can give the buyers the impression that your house offers large storage spaces. Also, do not forget to organize the remaining things in these storage areas because clean places look more spacious.
Keep your house as immaculate as possible
It is a no-brainer that you should keep your house clean and tidy during the selling period. Some buyers may visit the house on a short notice and they will not like a messy and disorganized place. Thus, you need to clean the floors, windows, walls, and furniture daily.
Moreover, make sure your house smells pleasant because bad odors will instantly turn the buyers off. Instead of covering bad smells with an air freshener, try finding where it is coming from.
In addition to this, light up your house as much as possible – buyers love the bright and cheery environment. You should consider taking down the curtains and changing the lampshades and light bulbs. Taking care of these simple things will make your house more sellable!
Renovate your kitchen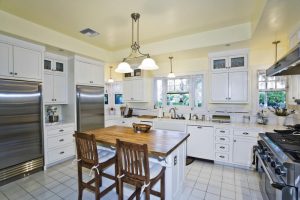 Renovate your kitchen as if the sale depends on its condition only. Upgrading your kitchen will bring multiple benefits in selling your home. The best part is that you are likely to get 85% of your money back.
To give your kitchen a modern luxurious look, all you need to do is paint it neutral and replace the old cabinets with new hardware. If a buyer falls in love with your kitchen, there are high chances that he will end up buying your house.
Do minor upgrades
The key is to keep the upgrades simple because minor fixes do pay off while major renovations do not. You need to handle minor repairs before putting up your house for sale. If there are any leaky faucets, loose doorknobs, stains, or holes in the walls, broken tiles, or sticking doors, you should deal with it ASAP. After all, no buyer will pay a high price for a poorly maintained property.
In addition to this, simple updates including a fresh coat of paint on the walls, new cheap yet presentable curtains, and replaced cabinet hardware go long way in impressing the buyers.
Depersonalize your house
This is yet another big secret for selling your home – a house that feels like home to you will not seem like home to the buyer. It is important to remove your personal stuff, such as family photos and store there somewhere. You should get rid of a third of your belongings so that the buyer can easily imagine himself living in the place.
Send your pets away on the tour day
While you may love to see your pets playing around in your home, the buyer might not necessarily be a pet lover. With your pet lying on the couch, a bowl of pet food on the floor, and the smell coming from the litter box, the buyer will simply deem your house to be unclean and unsanitary.
Considering this, it is better for you to send away your pets to a pet hotel for the day when the buyer is expected to visit your house. This is probably one of the most valuable secrets for selling your home.
Always be prepared to welcome the potential buyers
Another secret to selling your home is always being ready to show off your home to the buyers. A buyer can ask for a home tour any time of the day so you need to make sure that the house is presentable. Keep your bathroom clean and wash the dishes first thing after having a meal. Also, make sure that your dishwasher is always cleaned out. A home tour is an excellent opportunity to convince the buyer to buy your house, so make most of it by keeping your home in top-notch condition at all times.
Focus on your home's exterior too
When a buyer takes a home tour, the foremost thing he will observe is the exterior of your house. If it is not up to the mark, you will not be able to make a sale even if the interior of your home is amazing. Thus, you should pay extra attention when it comes to the cleanliness of the area outside your home. You can also decorate the area with colorful flowers and plants to give positive vibes.
Conclusion
Selling your home can be a tough job if you do not know what buyers in general appreciate and what keeps them away. Doing zero efforts to sell your house will not attract even a single potential buyer, let alone sell it for a good price. From how to improve and maintain your home's condition to sprucing up the exterior of the house, there are some simple yet amazing secrets, which will not only impress the buyers but also help you sell your house for the best price.