It is a lifetime dream for many people to live in a house on the water. After all, waterfront homes and houses are a pinnacle of a luxurious life. Houses on the water are increasingly becoming popular because of the serenity that comes with living in such a house, the calmness that one can enjoy for living on a lake or beach, and for the health benefits that one can enjoy. You can have such incredible views right from your house, enjoy some fresh sea or lake breeze, listen to the calming sounds of water and water creatures every night and morning and you can have an enviable relaxation. This is why houses on water are getting more popular: see why and how you can find one:
Living On The Water Has Myriad Health Benefits
Natural environments can reduce your stress levels. The quality of air in such an environment is also very high and therefore you can prevent diseases like heart disease, high blood pressure, and diabetes that come with living in toxic and polluted environments. Living on water can also allow engaging in many recreational activities like surfing which can boost your physical health, psychological and mental health too. Swimming and kayaking are also activities you can enjoy anytime you have some free time and they can increase your muscular strength. One way to enjoy these benefits according to waterfront home sellers at GreatVancouverHomes is to consult agencies that deal with Floating homes to understand the importance of owning a floating home as opposed to owning a houseboat and understand the various mechanisms you can use to finance your buying of a waterfront house. The agency you consult should offer you free advice on how to finance your purchase of a waterfront house and it should also have affordable rates for its floating homes.
Accessibility To Water Sports
The fact that you are surrounded by water on all sides means you have countless water sporting activities to enjoy in the different seasons of the year. You can enjoy boating, fishing, and kayaking which you would otherwise pay for if you do not live on the water. You can freely enjoy these services as much as you would want to have endless fun. To crown your fun in the water you can buy a boat so that you can visit different parts of the lake or sea anytime you want to. A boat can also be a good way for you to move around and interact with new people so that you keep your social life alive and healthy. If you are not a fan of fishing and boating you can also enjoy beach soccer, volleyball, golf and you can also enjoy a natural running track. There is also a coastal culture and nightlife which you can get exposed to as you live on the water. It's an intriguing one and you can enjoy and learn it. There are different real estate agencies in different states like Wisconsin which particularly deal with waterfront properties and you can search for one online to achieve your lifelong dream of buying a house on the water.
A Peaceful Atmosphere
Each of us at some point in life wants to stay in a peaceful and calm environment free from all the types of pollution and noise. Living in a house on the water can offer you more than a peaceful environment. You can live in a place where there are no neighbors and you can enjoy a lot of privacy. You can be away from urban disturbances which would otherwise interfere with your mental peace and comfort. You can also enjoy exotic views right from your house. You can sit on a high stool next to your window or in your driveaway and enjoy a hearty feeling of clear sunrises and sunsets. You can also catch up with some sea creatures and just enjoy the natural environment in the water.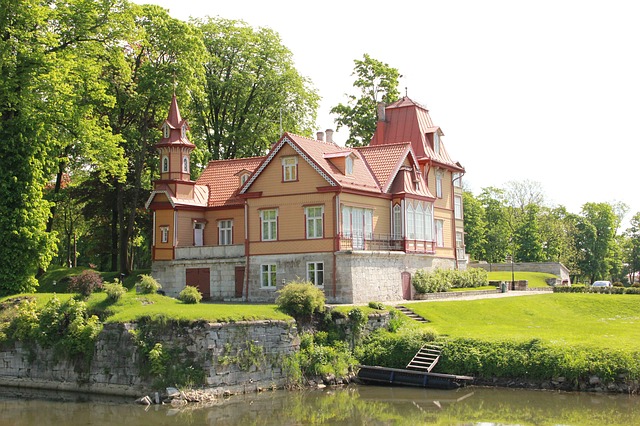 A House In Water Is Such A rewarding investment
Everyone would love to have a life investment that can have very high returns. Waterfront houses are such a valuable investment that anyone can invest in. As much as these facilities are becoming common, they are still rare to find in some places and this makes them retain a very high resale value despite the location. Remember that waterfront houses can also be hired out as rentals. Whether you sell a house on the water or you rent it out, you can make a lot of money based on the benefits the tenants can enjoy.
If you are thinking about owning or living in a house in the water, you have thought wisely. You can enjoy a stress-free life, have beautiful views and you can enjoy many recreational facilities both in the water and out of the water. A house in water also has a high resale value and you can make a lot of money by investing in such houses. There are several online platforms where you can find houses on water and buy one that interests you.