Housing Market Trends of 2019: A Deep Dive Into The Historical Predictions, Current State Of The Market & Future Market Projections

As we barrel through the second quarter of 2019, it's time to stop and look at what's happening in the housing market. May is a great time to review the year in progress because you can reflect on the predictions made at the beginning of the year and change course before it's too late if those predictions prove false. This article will be divided into three sections: the projections, the present reality, and the future, so you can make an informed decision about whether you're looking to buy or sell a home in 2019.

Historical Housing Market Predictions Of 2019

Back in December of 2018, an article in Forbes noted that mortgage rates would continue to rise throughout 2019 and that home price appreciation would likely "slow to near 3%." As a buyer, this was good news because it meant the favor would shift from seller to buyer. They predicted that mortgage rates would continue to rise throughout 2019, causing buyers to be more scarce, thus giving more power to the buyer to control the asking price. This is because the less competition there is among buyers, the more power they hold during negotiation. Without any kind of bidding war between potential buyers, a seller is left to take what is being offered or wait for the next offer, which might not come for weeks, months, or even at all. From a seller's standpoint, you may need to be flexible on your asking price. A slowing market not only means less offers on your home, but less power to stick firmly to your asking price since another buyer might not come for awhile.

It was also predicted that Millennials would continue to buy homes despite rising home prices. The unfortunate takeaway to note here is that despite the housing market becoming less and less affordable, Millennials are willing to dive deeper into debt to achieve part of the American dream: homeownership. If you find yourself stumbling into home ownership without real knowledge of the process, it can land you in a sticky and long-term, situation. Make sure you consult with financial and realty experts before making any big decision, especially in a cautious buyer's market.

Other schools interpreted rising mortgage rates to rule the market in 2019. A Washington Post article from January predicted that the rising rates will "affect everyone, driving up costs for home buyers and creating more demand for rentals." While this is positive for rental companies, it understandably caused homeowners to look at their mortgage rates with a bit of trepidation.

The political climate was also predicted to greatly impact the home-building industry. While high-rise apartments can be seen sprouting around some urban areas of major cities, builders were facing a plethora of problems due to a perfect storm of significant setbacks heading into 2019. "A labor shortage, lack of buildable lots, onerous regulations, strict lending, and tariffs on supplies such as lumber have increased their costs," says Robert Dietz, chief economist for the National Association of Home Builders.

While there were a lot of variables to contend with, including Amazon's now-defunct plan to open up a New York headquarters, it seemed as though the predictions for 2019 could be boiled down into four points.

Rates will rise
Sales will slow
Millennials will still buy homes
Home building industry will suffer
So, now that we are a third of the way through the year let's take a look at how these predictions have shaped out.

The Current State Of The Market In 2019

Like nearly every prediction, unforeseen circumstances in the housing market can cause the entire foundation of your prediction to crack, sending your thoughts tumbling down on top of you. A recent article in Forbes found that interest rates have not been rising, as predicted, but rather, "interest rates have dropped every month since November 2018. Part of this is a global drop in long-term interest rates, and a secondary factor is the recent Federal Reserve policy shift, which involves both short-term rates as well as the Fed's large portfolio of long-term securities." This lowering in interest rate, combined with a "labor shortage that will continue to drive up wage rates, boosting total income", will bring the market to a more stable point, meaning now is an okay time to be both a buyer and a seller.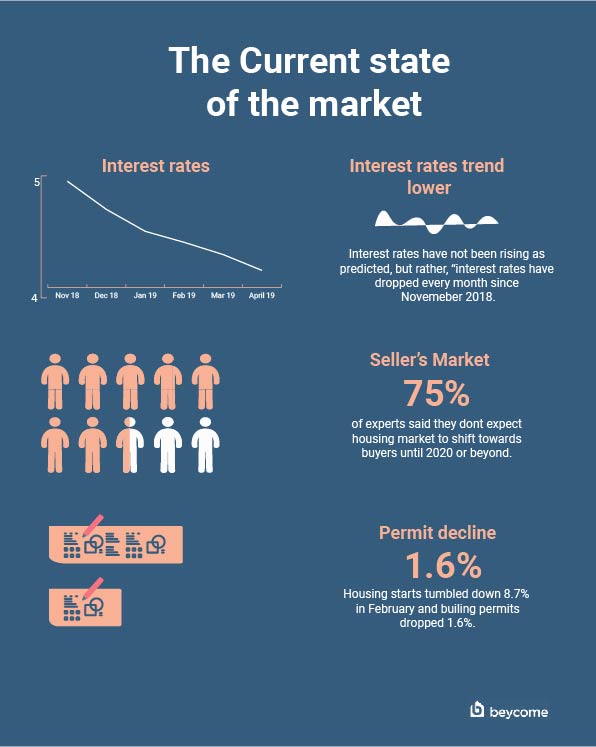 As far as selling goes, an article featured in US News and World Report has recently gone so far as to say that "housing markets may not be as hot as previous years, but selling now could be your best bet." Even though there is not currently a rush for homes, as predicted, the market is still strong, and Millennials are making the big investments. The CEO of Home Buyers of America, Nick Ron, says that "if you're on the fence about selling this year or next, this year will be better than 2020 and 2021." This also means that if you are happy with your recent home purchase, just sit back and enjoy it for five years or so before revisiting selling again. Finally, although it is still a good time to sell your home, remember that higher asking prices will mean fewer offers in 2019. Nick Ron found that homebuyer activity had slowed in recent months due to a combination of rising mortgage rates and asking prices exceeding first-time buyer's budgets. So, in this case, the predictions have run actual, and home sales are still happening, just at a slower and less frequent pace.

The fact that many homeowners entering the market are first-time buyer's is an important factor to remember when pricing your home. As with most deals regarding a large amount of money, negotiating is a skill that will be much less developed in many of the first-time buyer's looking at your property, so if you price too high, you can expect fewer offers. Millennials are also much more tech-savvy buyers than their predecessors, meaning they can look at 10-15 properties in a day if they research using various apps and search tools. The ability to compare and contrast homes is easier than ever, and as a seller, you should use that to your advantage. Take the time to make your house look amazing with excellent photos and an even better online presence. You want to get in front of as many eyes as possible in a market such as this, and the Internet can facilitate those needs.

One of the brightest sides for anyone selling their home in 2019, the US News and World Report article reminds us, is that "homeowners who bought during the recession or shortly after benefitted from historically low-interest rates. If you fall into that category, your home equity has risen with nearly every mortgage payment. The higher your equity in your home, the more you net from the sale." So, the good news is that if you want to sell a recently purchased house, now is a great time to do it!

As far as how the market looks from a buyer's standpoint, it seems like now is not the ideal time to buy, but it's not going to be much different than 2020. A Zillow Research study found that "more than 75% of experts said they don't expect national housing market conditions to shift toward a buyer's market until 2020 or beyond." Even though the market has begun to slow, the asking prices are still at a high point in many areas, and although sellers are getting fewer offers on their properties, they are still in control as far as setting the price goes. The same survey also found that 43% of experts said the national housing market would shift decidedly to a buyer's market in 2020, followed by 18% who predicted 2021. Either way, the future looks a little better than the present if you're on the fence about buying a home.

The unfortunate prediction of the falling home-building industry seems to also be accurate. According to an article in Kiplinger, "housing starts and building permits declined in February, signaling that the downward trend in residential construction will continue over the next few months." Considering that 2018 was a major political year, and 2020 will also introduce a changing factor in the economy, it seems that the next few years may be turbulent as new regulations enter into play. The Kiplinger article also found that housing starts tumbled down 8.7% in February, and building permits dropped by 1.6%. Even good news, such as temporary home new home sale spikes, is tainted with another harsh reality. The article notes that "new home sales rose 4.9%, most likely due to discounts and the continual decline of mortgage rates, many areas face a shortage of skilled workers which is slowing down the pace of construction." Hopefully, the home-building industry can finish the year strong and build enough homes while the work is there.

Future Projections For The 2019 Housing Market

Although we've seen that predictions can be wildly inaccurate in setting the stage for what's to come in the housing market, it is important to understand what to expect the rest of the year to look like now that some of the dust from 2018 is beginning to settle. We already know that buyers are being advised to proceed with caution from now until 2021 and that sellers on the fence about letting go of their property should either pull the trigger now or wait half a decade, but what here's what some of the experts say for anyone just entering the market as either a buyer or seller in the latter half of 2019.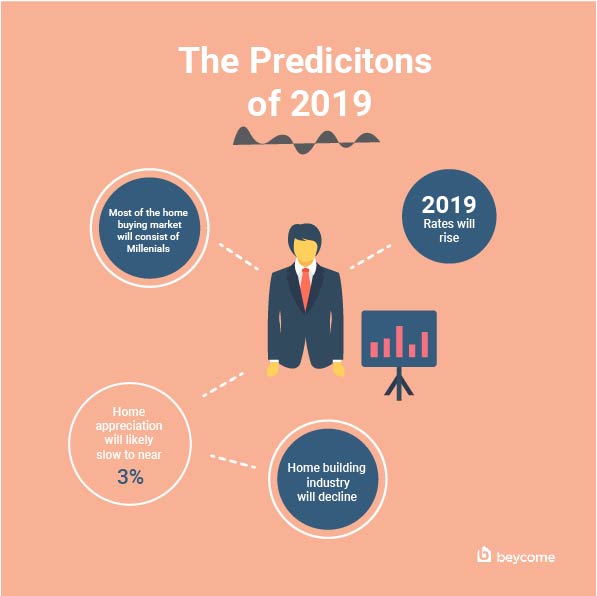 As a seller, the consensus seems to be that now is the time to sell. One survey of real estate experts found that almost half expected the next recession to occur in 2020. Whether that is true or not, it is always important to remember the ebb and flow of the market and that while it has been a favorable seller's market for a long time, it is not unlikely that as the evening out process happens, it will flip to a buyer's market in the near future. Most experts agree that "a major price decline is unlikely, but don't expect to make easy money simply owning a house." It is one of those very interesting times to be dipping your toe into the housing market. If you've taken the time to do your research, complete your renovations, and list at a fair price at this point in 2019, you may want to kick it into high gear just to get the best price point for your property.

On the buying side, there also seems to be a standard agreement that if you can wait a little bit, you should wait a little bit. On the flip side, if you see a property you want to live in for the foreseeable future at a price that lines up with your budget, then now might be the best time to pull the trigger on your dream home. Your competition will be low, and hopefully, 2019 will continue to see an increase in both employment and wage rates. That being said, stay aware of the unstable state of supply and demand. The vice president of the National Association of Realtors said that "more inventory is needed at the lower end and a price reduction may be needed at the upper end," meaning that not only are affordable houses for the average home buyer currently difficult to come by, but even the financial elite are finding prices a bit too high.  This is important to remember if your 2019 home-buying experience has seemed like a needle in a haystack thus far. If you can wait until prices drop to a more reasonable rate, you should wait to see what the future holds.

Some predictions were right on, while others, like rising interest rates, obviously fell flat. The current housing market seems to be at a point of semi-stable unsustainability. While there are homes to be bought and buyers seeking to buy them, most would-be home buyers are simply being priced out of the game. While sellers may only see this money squeeze as attracting fewer but more serious buyers, they will be in for a rude awakening when the market begins to turn in the coming years. No matter what position you're in regarding buying and selling a home, make sure you research and consider hiring an expert to help along the way.